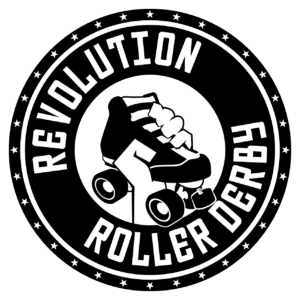 MISSION: Revolution Roller Derby was formed in 2012 to serve the community by empowering adults and children through athleticism.
We encourage emotional and physical growth through challenging perceived limits and healthy athletic competition.
League members develop positive attitudes about self-esteem and healthy body images through physical fitness. Revolution Roller Derby provides ongoing education about health, wellness, and the hard hitting sport of roller derby to the surrounding community.
We achieve our purpose by adhering to the following core values:
DEDICATION: League members, community businesses, sponsors and, our fans allow Revolution Roller Derby to be skater-owned and skater-managed. The league is devoted to provide quality entertainment and growth to the community through educational programs. League members are dedicated to make themselves mentality and physically stronger.
COMMUNITY: Revolution Roller Derby supports area nonprofits and social causes through food drives, collecting goods and, volunteered time. League members all learn to help form a stronger community and be actively involved with projects that make this community a better place to live. Revolution Roller Derby supports local business and is excited to do projects that can promote economic stimulation to local businesses.
EMPOWERMENT: The league embraces individual empowerment through commitment to personal physical fitness, the development of healthy friendships, and constructive education about pushing passed superficial limitations. Revolution Roller Derby accepts and enables anyone with the willingness to try. The league will provide training for all levels, all sizes, all backgrounds, and all genders without discrimination. We believe that within these differences we can find a hidden strength to empower each other.
We believe in empowering our members and building confidence and camaraderie among all of us, one practice at a time. There is a place for everyone here, whether it's on the track, making posters, or keeping score.
Revolution Roller Derby acts as a grassroots organization. We believe in giving back to the local community, and we continue to support different local nonprofits with every home bout.
In November of 2013 Revolution Roller Derby developed a all women's travel team called The Rolling Valkyries aka The Valkyries. In November of 2014 we formed Pinellas County's first Co-ed travel team, Mom & Pop's Militia. These teams were developed to compete across the state of Florida. We will only be a success with this, with the support of our skaters, volunteers, sponsors, and fans.
Revolution Roller Derby has a lot in store for the growth of our league, with teams, skaters and more to come. We know there is a lot to learn, and patience is what we use for the sake of this alternative sport.
We will rise above all odds and the sky is the limit for us!
WANT MORE INFO? FILL OUT FORM BELOW: